Honda
Honda builds the most reliable vehicles on the road. Whether it is a car, minivan, or SUV, we know we can keep it safely on the road for as long as you want to drive it.
SHADETREE AUTOMOTIVE | FULL HONDA REPAIR AND SERVICE SHOP
Our Layton auto repair shop is your true Honda dealership alternative. Our mechanics have over 20 years of experience on top of countless hours in a classroom to keep up with the latest technologies. Our latest addition to our mechanic team is Dillon. Dillon is a Honda enthusiast. He eats, sleeps, and breathes Honda. He went through the Honda dealer factory training and went to work for a local dealership. It was his dream to work for a dealer, but after a few years of working his way up, he decided the negative culture at the dealer did not align with his fun and positive attitude. When he came to the interview decked out in a Honda hat and Honda technician shirt with a big old grin on his face, we knew we had found our guy.
Dillon is the youngest mechanic on our team but has proven to have a vast knowledge of all Honda platforms and a work ethic that focuses on quality. To compliment Dillon and our other mechanics, we also have Daniel in our office. Daniel is also a huge Honda enthusiast. Chances are if you bring your vehicle in for repair, maintenance or service will get to work directly with Daniel at the service counter. He is a detail-oriented young man and will do an excellent job of keeping you informed throughout the repair or service process. When making an appointment, feel free to ask for Daniel. He will not disappoint you or your Honda.
FAMILY-OWNED HONDA REPAIR SHOP
There are still a lot of owners that feel they need to return their car to the dealer to get it properly serviced. We would love the opportunity to earn their business. Our local family-owned shop has a team of professionals that will take great care of you and your vehicle. With our friendly office team and our knowledgeable mechanics, we are confident we will provide service that exceeds your expectations.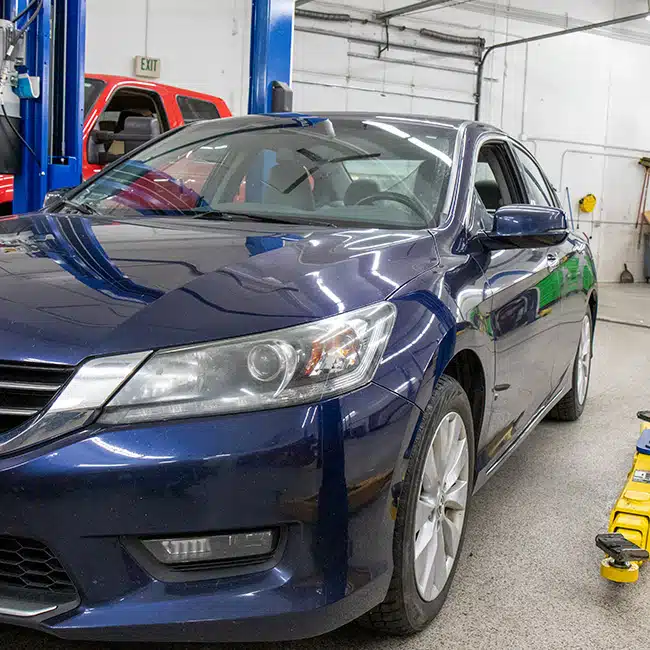 WE LOVE HONDA AND THEIR OWNERS
Honda owners are our favorite customers. People don't typically buy a Honda to be super flashy. They buy them because it is a good smart investment. Our team of advisers has the same way of thinking when purchasing a vehicle. This often makes our office team and our customers have a lot in common which leads to long-standing relationships.
WHY WE LOVE OUR HONDA CUSTOMERS
Honda owners are typically well-educated on the importance of maintenance. They have done a good job of letting new buyers understand that there are certain things that need to be done every 30k miles to keep their vehicles safe and reliable for many miles. We love to see our Honda owners properly maintain their vehicles so they can drive them several 100k miles.
RESERVE A FREE LOANER CAR
Don't forget to ask us to reserve one of our brand-new Civic loaner vehicles for you to use while we have your Honda in the shop. We offer these complimentary loaner vehicles at no cost to you. We understand that it is very inconvenient to give up your car for the day. This is why we send you out with the keys to one of ours so you can go about your busy day.
SOME OTHER ADDED FEATURES TO CONSIDER WHEN COMPARING US TO THE DEALERS:
3-year 100k warranty on all repairs and maintenance– This gives you peace of mind that our repairs will be done properly and you will not need to worry about further expenses.
Free loaner cars- No need to sit around a boring waiting area- Grab a cookie and the keys to our loaner and go back to your day.
Digital inspections- Our mechanics perform a thorough inspection of your car every time it comes in and then send their notes and pictures directly to your phone. This allows you to see what we see. This is very helpful for you and your adviser to prioritize what repairs or maintenance you may want to do now and what recommendations you may want to wait a couple of visits on.
Key drop box and key pickup box- If you are not able to get to us during business hours, we have safe and easy boxes to allow you to drop off and pick up after hours.
Friendly and helpful advisers- Not all service advisers are created equal- Our office team love people and love their job- You can feel the positive energy when stepping into our clean office and will be greeted with a smiling face.
24-hour free towing– Hopefully you never need this service, but if you do, we have you covered.
Contact our shop in Layton, UT for your repairs and services with Shadetree Automotive today!