In our previous blog, we answered a question that we get asked all the time in our repair shop: Is Honda Still Reliable? Based on our decades of experience as mechanics and some studies, the answer was yes.
Another common question that we get asked along those lines is whether Honda or Toyota make better cars. After all, cars are significant investments, so you want to ensure that you go with a make you can rely on for as long as possible. To answer this question, we did our own research by going into our general auto repair shop records and pulling reports from the last 10 years. 
So, Honda vs Toyota, which is more reliable? Well, there are a number of factors to consider here. Here's what you need to know from our own shop records and what we've noticed with these popular Japanese makes. Let's get into it!
Disclaimer: These Reports Are Based On Northern Utah Data
So, before we get into the reports, we want to make a quick disclaimer. Our shop is based in Layton, UT. If you're not from Utah, what this means is that Utah vehicles get used in a somewhat different way than in other parts of the United States.
Utah is subjected to super cold, snowy winters, which means there's a lot of road salt and winter weather conditions. Utah also gets very hot and dry summers. Both the extreme heat and the extreme cold can impact tires, fluids, and more. So, keep this in mind when we talk about our reports. Bear in mind the fact too that our reports are based on what comes into our shop.
All of that being said, here's what the reports had to say about the Honda vs Toyota debate.
What The Reports Show: Top Makes Serviced
Over the past 10 years, we've worked on a total of 335,223 vehicles, with an average repair order across all models of about $726.
Bear in mind with the average repair order cost that we take on a lot of the jobs that other shops don't really like to do. Because of this, our repair order is typically about 20-25% higher than the average general repair shop, just because we do more major work than a lot of other shops do. Our services range from $75 oil changes to $20,000+ diesel engines, so that's where we get our $726 average from.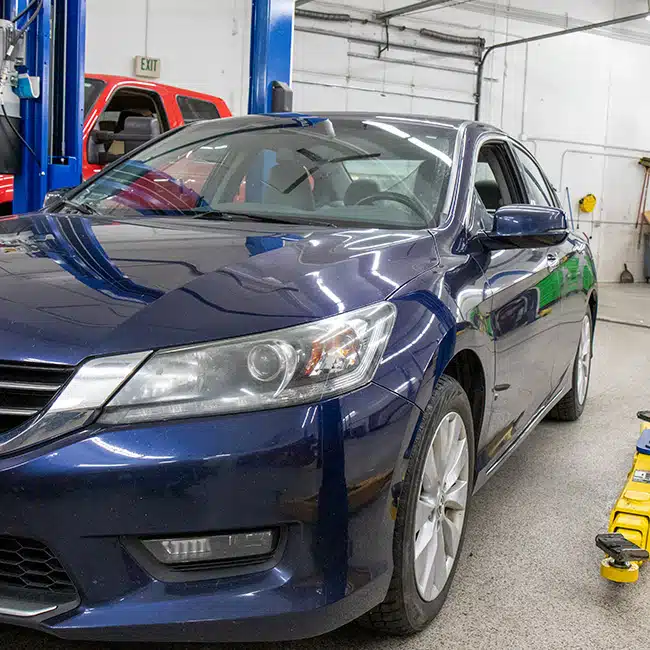 The top four makes that we've serviced in regard to total volume over the last 10 years are:
Ford Trucks. We've worked on a total of 3939 Ford trucks, with an average repair order of $705.14. Utah loves Ford trucks, and we do a ton of fleet work.
Toyota. We've worked on 3657 Toyotas, with an average repair order of $621.70. Unlike Ford, Toyota doesn't break their trucks out, so this is based on all the different Toyota models that come in. We see a ton of Toyotas here in Utah.
Honda. We've worked on 2957 Hondas, with an average repair order of $598.52. Again, Utah loves Honda. Like Toyotas, we see Hondas all the time, on the roads, and here at the shop.
Chevy Trucks. We've worked on 2405 Chevy trucks, with an average repair order of $673.15. As with Ford trucks, we service a lot of Chevy trucks that are part of fleets.
As you see, Toyota and Honda up there among our top makes serviced. While this may give you pause and make you think that neither make of car is that reliable, it's important to note that Utahns love these types of cars. All of our top makes serviced are vehicles that you constantly see on the roads here, so if there are more of them on the road, it's natural for them to make up the top makes serviced.
About Toyotas
Toyota owners spend about 14% less than the average car that comes in, about $104.21 less.
About Hondas
Honda owners spend about 18% less than the average car owner and 4% less than the average Toyota owner. Honda owners spend an average of $127.39 when they come in, which is about $23 less than Toyota owners.
Important Notes About Honda vs Toyota Reliability
#1. Honda Doesn't Have Trucks
While the numbers show that Honda owners have come in less frequently and spent less money overall than Toyota owners, there is a factor that's skewing the data. This is the fact that while Toyota has SUVs and trucks, Honda doesn't have SUVs or trucks that get used in the same way as Toyotas. While Honda does have their Ridgeline, it doesn't do what Toyota Tundras and Tacomas can.
Trucks and SUVs get used and abused more than the average car that you just drive around down, especially here in Utah, where people love motorsports. Because of this, they're going to be in the shop more often.
#2. Honda And Toyota Owners Take Better Care Of Their Vehicles
Both Hondas and Toyotas have exceptional reliability and are great cars, but a great car that isn't taken care of won't last as long. We've noticed that Honda and Toyota owners generally understand what their cars need in order to maintain their reliability.
We often get unprompted phone calls like: "My Honda just hit 100,000 miles; I need to schedule it in for maintenance" and "My Toyota just hit 60,000 miles; I'm due for fluids and filters."
This isn't something that we see much with the average car owner. When we make recommendations to people who bring their cars into the shop, it's often a surprise. But in general, with Honda and Toyota owners, they know what they need to be doing in order to help their vehicles maintain reliability for as long as possible. We've been very impressed by this.
Now, we don't know whether this is because Honda and Toyota dealers are educating their customers better than other dealerships, or if maybe because people buy Hondas and Toyotas for their reliability, they're more vigilant about what's needed to keep them running. Regardless, it's something we've noticed throughout the decades.
Honda Vs Toyota: Which Is Better?
Alright, the reason why you clicked on this blog: which is the better make?
We don't have a solid answer for this question. Both Hondas and Toyotas are reliable vehicles, so buy what you like and make sure that you're taking care of it. While neither make is as reliable as they used to be, they're still beating the other makes out there. So, as long as you take care of your Honda or Toyota, you'll be just fine.
Expert Auto Repair In Layton, UT
Regardless of whether you have a Honda, Toyota, or other make of car, you'll likely need repairs at some point. Shadetree Automotive's specialists are here to help you keep your car in good condition for as long as possible. We do inspections, diagnostics, repairs, maintenance, and more. To learn more about our services or for any questions you may have, please don't hesitate to contact us today.